If you are here from the 6 Wicked Days of Halloween,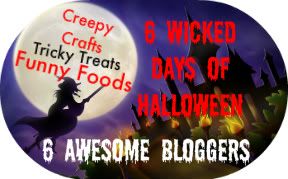 I am day 3 of the 6 day crawl, I dont have anything gory or creepy, but thought
I would share a recipe for toasted pumpkin seeds, ANOTHER thing to love about this holiday!
I know alot of people just throw the seeds away with the 'guts', but
I highly recommend giving one of these quick and easy recipes a try!
First you need to retrieve the seeds,
this year my kids came up with their own designs. With no help from us.
Shocking that Wyatt was willing to get his hands all slimy.
Morgan however had no issues with the pulp.
Ok, on to the recipes.
I am going to share 2 different seasonings you can choose, salty or sweet.
Rinse the seeds and remove as much of the pulp as possible.
NEVER place cleaned seeds on a paper towel, they will stick. I found out the hard way one year.
You will need spray oil (I use Olive oil), sea salt (or kosher salt),
I find that the larger grannuals stick better), and brown sugar.
I have always baked my seeds, but I thought I would try it and see if I had another
option that didn't set off the smoke alarm was quicker. So I toasted them. Spray the seeds with the oil and toast in frying pan until browned. Usually takes about 20-30 min on medium/low to toast them. Then sprinkle them with the Sea Salt, stirring constantly. When they pop a little in the pan, they should be done. Taste one when cool and if they are crunchy-ENJOY.
The sweet recipe is the same except the last few minutes of cooking, add a few tablespoons
of brown sugar. Stir constantly until the sugar melts & let cool.
I have enjoyed them since I was a kid, hope you and your family enjoy them too!
Now get scoopin and toastin!!
Here are my kids spooky Jack-O-Lanterns, I love how they are so not perfect, but perfect for them!!
and don't forget to check in on our Creepy Crawl here:
26th - Jessica @ Hill Country Homebody
31st - Jenna @ 2027
Linking to: