Marilyn of The Artsy Girl asked me if I was interested in a
6 day party
that starts tomorrow !!
So follow along these great blogs for 6 days of Halloween madness!! On Halloween, there will be a last chance to post anything Halloween related on The Artsy Girl blog.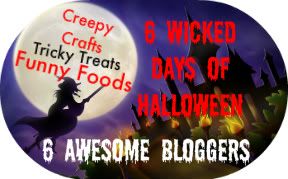 26th - Jessica @ Hill Country Homebody
31st - Jenna @ 2027
(don't forget to head over to the Halloween link party on Halloween @

The Artsy Girl

)
Hope you will join us!!