So this past weekend I did all the hair for an off site bridal party. It's my day job. And I love it. I will do a post soon of some hair stuff! But on my way home I saw an Estate sale.
So, yeah, I aimed my car right there!
The women who's Estate was being sold apparently loved dolls. and birds. She had 6 HUGE bird cages, no birds though. Wonder where THEY went. I am not a doll collector, but I can appreciate her collection.
I did not arrive until after 2, so I imagine that the best dolls were already snatched up.


I did buy a rubber mallet, and this old sewing box. I have never seen a 'box' for sewing, just baskets. Not sure of the wood, but the box is old and in great shape.
It was filled with all kinds of neat stuff.
I love old wooden spools. And I have never seen this pink thing before. It is wooden, but too small to
be a sock darner. Then it hit me, a glove darner. 2 different size ends. kinda cool.
At first I thought it was a book of matches, but upon further inspection,
They are clothing labels. Not sure the material, but this Miss Smith apparently didn't use them
much, because the booklet was full.
I am not positive, but I think these are old collar stays. But if I am wrong, please let me
know exactly what they are. One of them looks like bone. I don't think it is celluloid, it is pretty solid.
There was a cute little book of needles.
And pack upon packs of needles. I will never run out of them!
Some were so elaborate. All nice and neatly folded up with gold lettering and pictures on the inside. This said it was registered in 1868 & 1878. Did they mean the wrapper or the needles??
I guess these are notions. These were my favorite. The colors, the script, and the slogans.
BRASS Rust? Never!!
It's in the TRIANGLE
There was one small piece of embroidery, on a corner of what I assume was a pillow case.
But the rest was cut off. Some young girl probably had a crush on Carl.
\\I love my little sewing box. Some I will use and some I will never touch. I am sure when it is my time and there is an Estate sale for all my 'stuff' someone will look at this sewing box and wonder 'how old was this woman?' LOL
I did pick up this old picnic basket. Not sure what I will use it for, but I will find something.
Storage for towels, toys, who knows. I
But my most unusual find was one wooden shoe. It was dark wood, I have only ever seen light wood.
(sorry for the poor lighting)
At first I thought it was an inlay, but it is actually painted on.
By hand. Winter scenes of sledding, skiing and playing in the snow. It reminds me of the story of
Hans Brinker or the silver skates, a story that takes place in Holland. I used to listen to that story
on the record player.
The next day I also pickup up this 3'x4' mirror. Like 3 FEET by 4 FEET! HUGE!
It is not wood though. Plastic. But I love it anyway.
I got it from a women who buys the leftovers from estate sales. $25. Another great score for moi!
The patina is so perfect. Except I am gonna spray it. It will be a Christmas gift for someone special, so hopefully she is not reading this!! I am looking for a Turquoise spray paint. I went to a K-Mart since the Lowe's, Home Depot OR Walmart do not sell Krylon around here. They have a soft color called 'Ocean Breeze' but I want some in your face Turquoise and then a really shiny gloss over it. Any one have any recommendations? But I did score because they are discontinuing the Krylon at K-Mart (the one near me anyway). They had about 14 cans left and I got 9 cans of paint, for $9!! SWEET!
I know, right?!! 9 bucks!
I got some colors I love and some I have never even heard of, but for $1, who cares!
Lastly I got this desk. I was drawn to the large rope detailing around the top.
I have never see that detail before. This is some THICK rope. It is old and
in great shape, no missing hardware. Not sure what I am gonna paint it.
Something fun. Or manly. Or Nautical. Gonna sit on it a while.
Overall, great stuff, thanks for letting me share it with you!
Don't forget the blog crawl going on right now!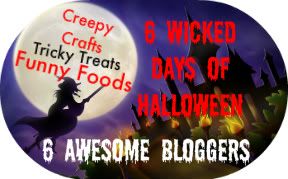 I will be doing a post on Thursday, but be sure to check out today's post @
and here's the lowdown on the rest of the bloggers...