Maggie over at Midwestern sewing girl contacted me to let me know about her Fish foam giveaway and that
one of her 3 winners did not collect her 3 cans of Fish foam she had as a giveaway, and when she picked another winner, it was ME!! Well, it came in the mail today and it was just the perfect day for it to arrive too! I realized something a week ago about myself that I didn't know. Looking back, every winter for as long as I remember I get into a funk after Christmas and am in it a few months until the sun comes out and the flowers come up. I guess I never really realized that I had it EVERY year or even what it is called. I went to see a Dr. about it last week because it is a bit more than my sometimes 'ADD procrastination' and she told me I have SAD.
Seasonal Affective Disorder
. The winter blues. My Dr. recommended light therapy. About 30 minutes in the morning should help alot. I ordered an SAD light from Amazon, and I will keep you posted about how it goes. The weather here in St. Louis has been a little warmer, so I think that has helped me in the last few days. I have the day off today and I felt like cleaning. Something I have not done since before Christmas. Yeah, that bad. But like I said, the Fish foam came at a perfect time!!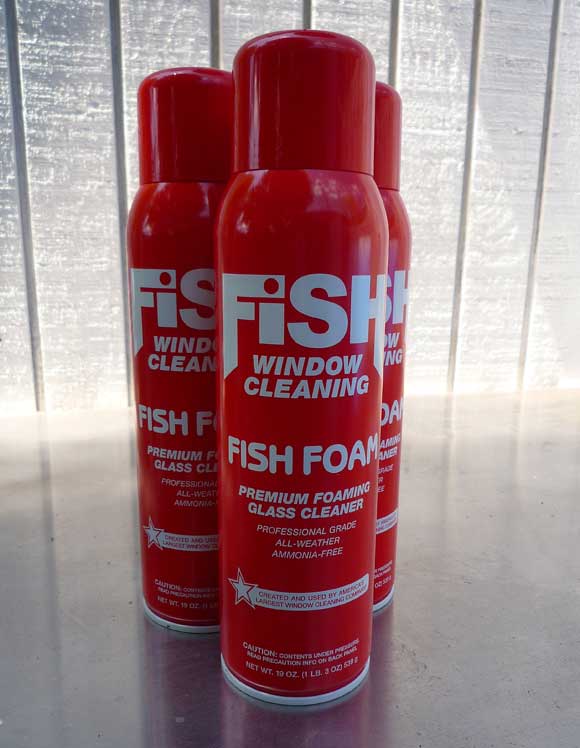 I looked around the house and tried to pick out the dirtiest surface I could attack with
this foam. The sliding glass door. Dog and kids in and out!! I always have the hardest
time with it, not even sure what some of the smudge is that is on it,
just that it is gross! Here are some before and after's.
These shots do not do this glass door justice. Trust me it was gross!
The after photo doesn't even look like it was taken through glass!
This photo also was taken through the glass!
Nothing was safe from me and the foam!
I hit every appliance, TV, toaster, even my stainless steel trash can!
I have no idea what is in this stuff, but you only have to wipe it off.
NO streaking and no having to reapply.It is amazing.
Normally I would have to go over every surface a few times with Windex,
as it would run and not stay put. The smell is so fresh and clean too!
It gave me enough of a taste of clean to do the rest of my house!!
Yep, after a month of doing the bare minimum, my house is clean. For now!
Something else happened today too...
I have some furniture recycling I started working on, as well as my laundry room finally
getting organized, that I will be showing in a future post soon. YEAH for doing somethings!!
My Wait a wee Meenit Wednesday's party is going on for a few more hours,
and tomorrow I will feature some of the link ups.
<a href=http://aweemeenit.blogspot.com/><img src=" http://hotbliggityblog.com/custom/bonnie/bonniebutton2.png" /></a>